Digital Twin
You can do
it too …
Guide: How to build a Digital Twin
with QualiWare
By Kevin Bowles, Product Owner: Enterprise Architecture, QualiWare

Guide: How to build a Digital Twin
with QualiWare
By Kevin Bowles, Product Owner: Enterprise Architecture, QualiWare

Digital Twin based on an Airport Case
Kevin Bowles utilizes an Airport Case to build this Digital Twin. As the focus for the Digital Twin he has selected the business capability "Passenger Security" .

​Step 1: Identify processes and supporting architecture
There are multiple ways in QualiWare for us to identify the processes and supporting architecture assets for Passenger Security:
1.
Browsing our catalog of capabilities and locating Passenger Security: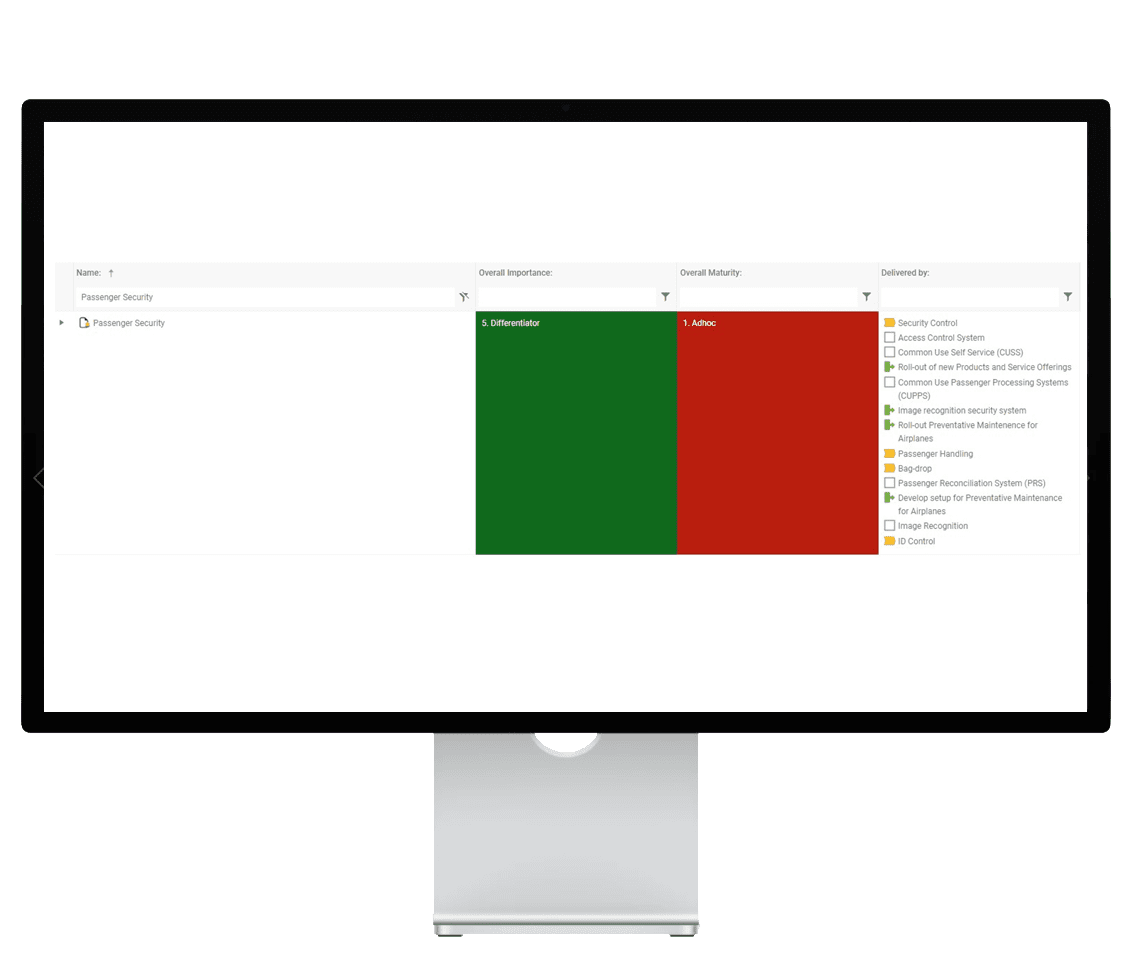 2.
Using our standard 3D Visualizer to identify key relationships o
r obtaining a more advanced visualization with backward and forward relations through our repository explorer.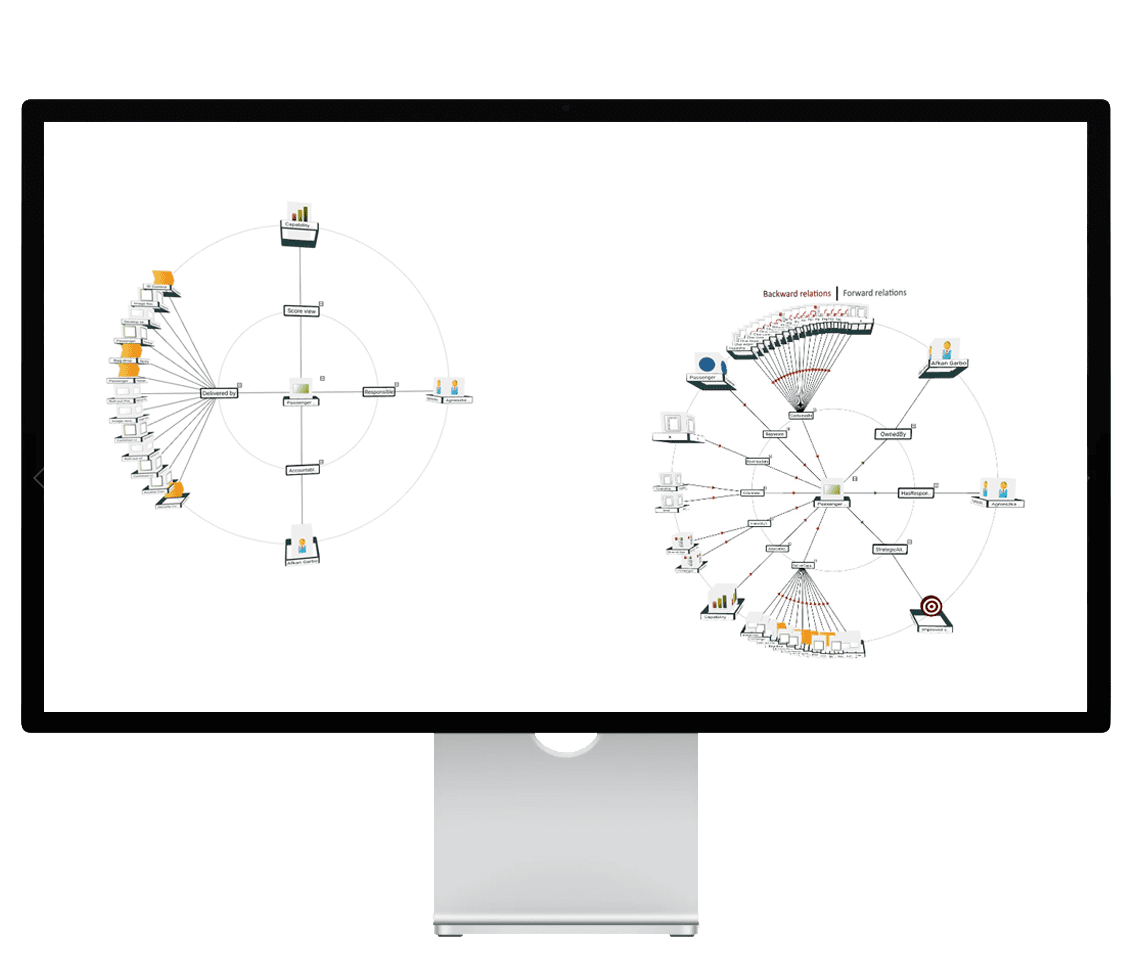 Step 2: Identify processes and supporting architecture assets
Now, you need to identify the exact processes & supporting architecture assets that contribute to "Passenger Security" (Our digital twin candidate).
Using any number of the available methods, we can determine that our Passenger Security capability is delivered by (see picture below):
1 core business process with 3 supporting processes: Passenger Handling - ID Control, Bag-Drop, and Security Control (validated in our Business Operating Model) +
4 information systems: Access Control System, Common Use Passenger Processing Systems, Common Use Self Service, and the Passenger Reconciliation System.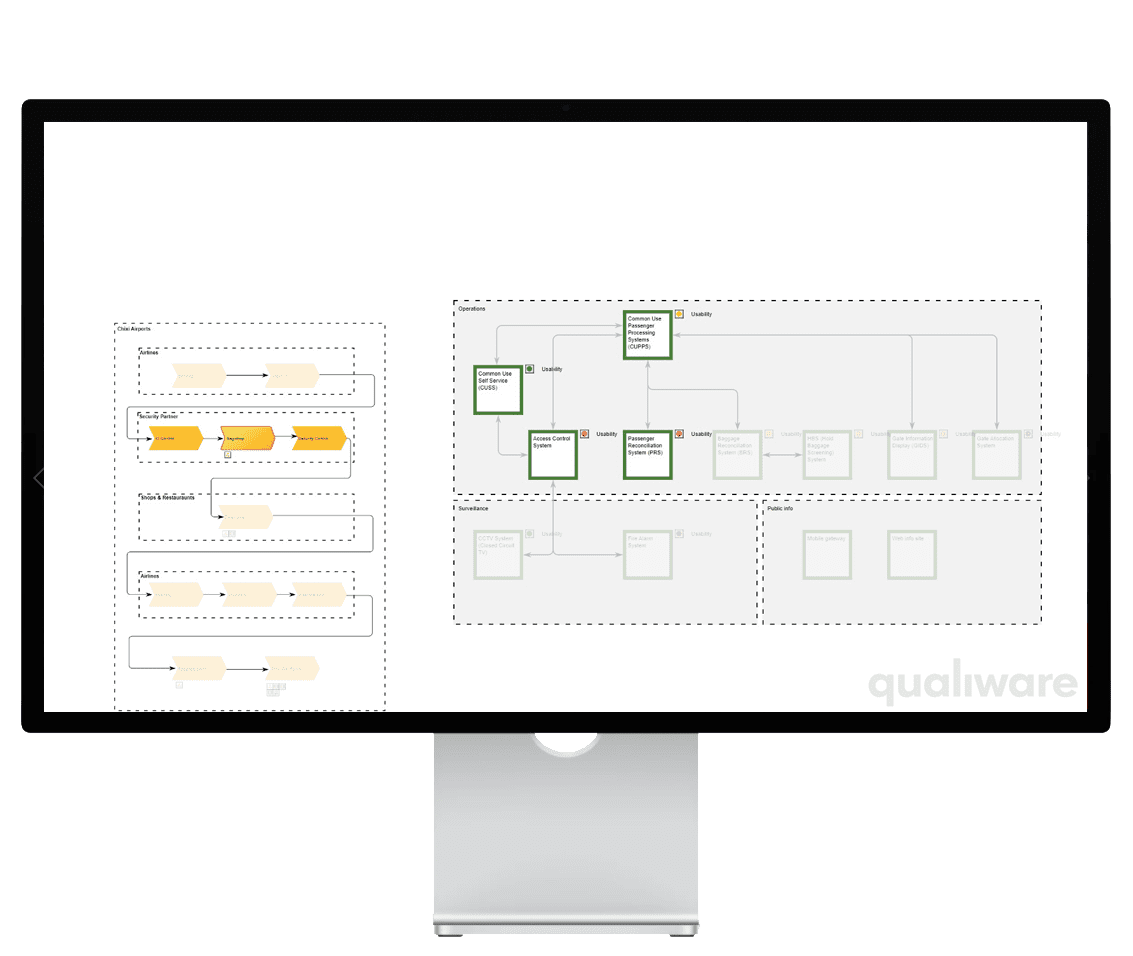 Picture left: The Passenger Handling process is accessible by drilling into our Business Operating Model.
Picture right: We can isolate the applications used in the Passenger Security capability through our application landscape.
Step 3: Establish a baseline
Next step is to establish a baseline for acceptable tolerance levels; for example, what is the maximum amount of time a passenger should have to wait before moving through security, and what is the average time that the passenger waits to move through security.
We are now going to focus on the Security Control process to define our baseline performance metrics.
Opening the process properties in QualiWare, we are presented with a range of options for enhancing the metadata and attributes of the process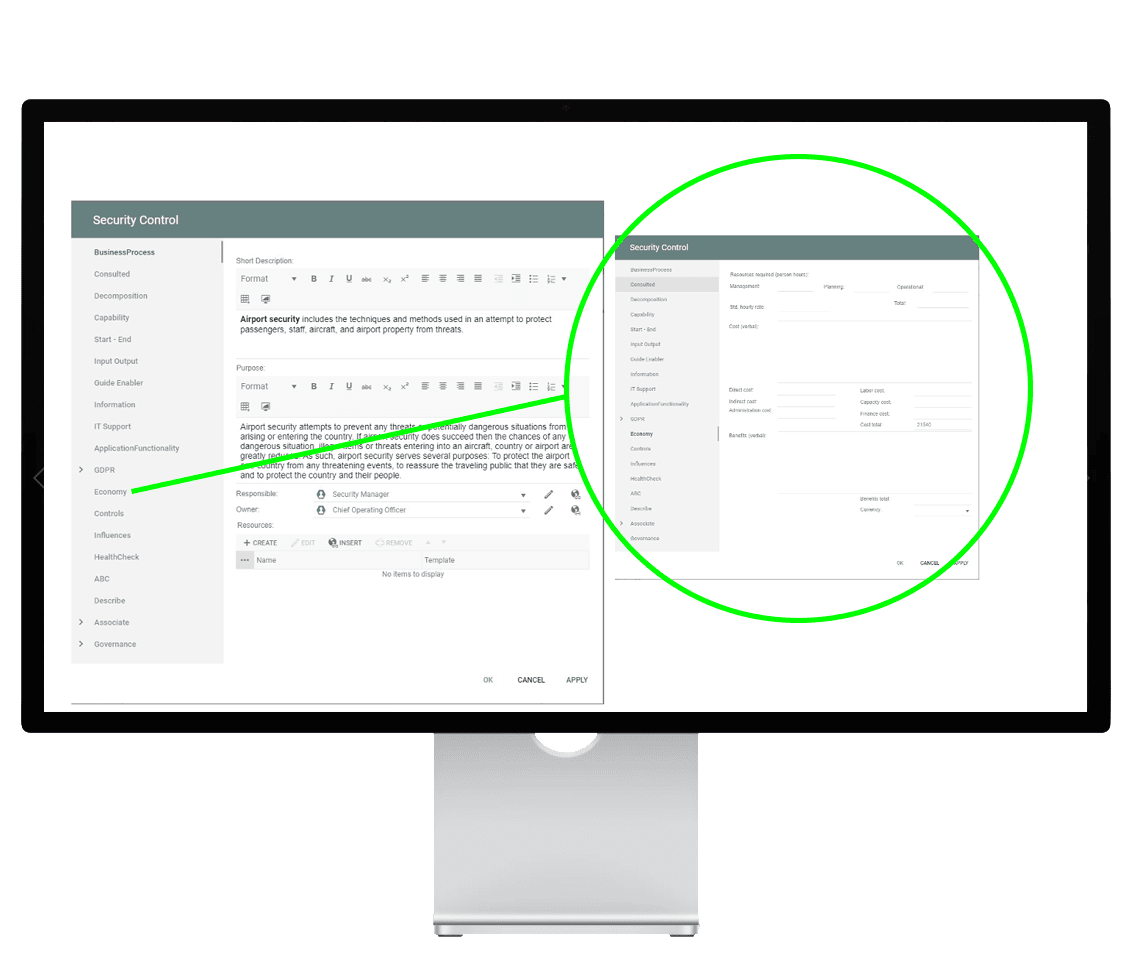 We need to ensure that we identify the resources, enablers, information systems, and controls that facilitate the operation of this process. These are all objects that either already exist in our repository, or need to be created and linked.

We also want to capture the aggregated direct and indirect costs associated with the process, and ensure that the controls have been identified.
Now, we need to evaluate the activities that together form the process, to capture specific metrics for each critical step. We will leverage our ability to define each message flow, sub-task, loop, and completion condition in detail for all of the critical activities in the process.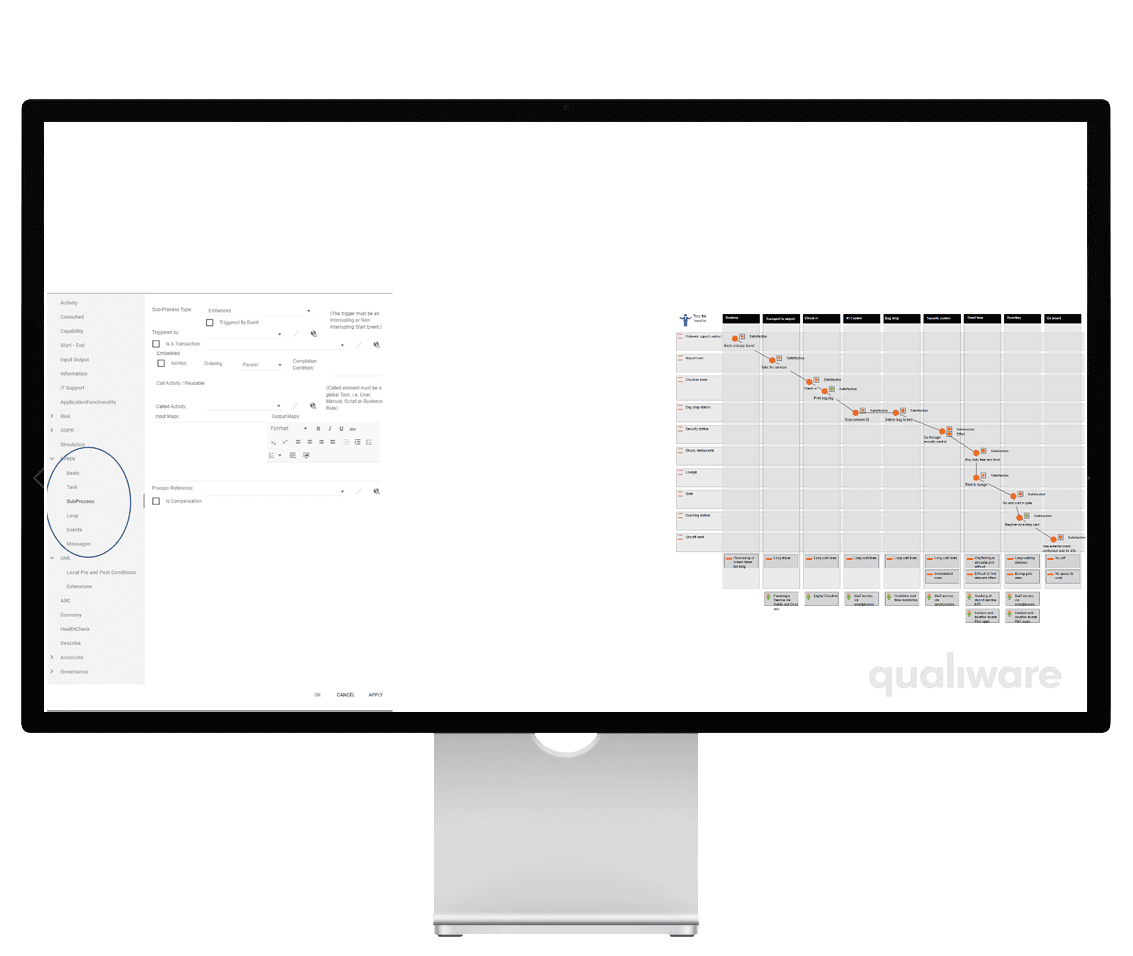 We will also include any relevant policies and guidelines that enforce the maximum number of passengers & staff that are allowed in any specific process activity (or section of airport security).
The performance of these activities directly impacts our customer journey.
Step 4: Obtain production Data

The last step is to obtain regular production data from the customer satisfaction terminals after passengers move through security
Once this has been done, we can use production data from our information systems (through interfaces created in QualiWare).
This data will provide us with an accurate view of movements through the process (scanning boarding passes at security, deviations where passengers are identified for further scrutiny, and validating identification documentation).
Now that we have an idea of the average time it takes to get passengers through security, we can experiment with our processes & systems to identify opportunities for improvement.
We can create branching configurations to test our theories!
We also have a capability to monitor production data, providing management with valuable performance insight.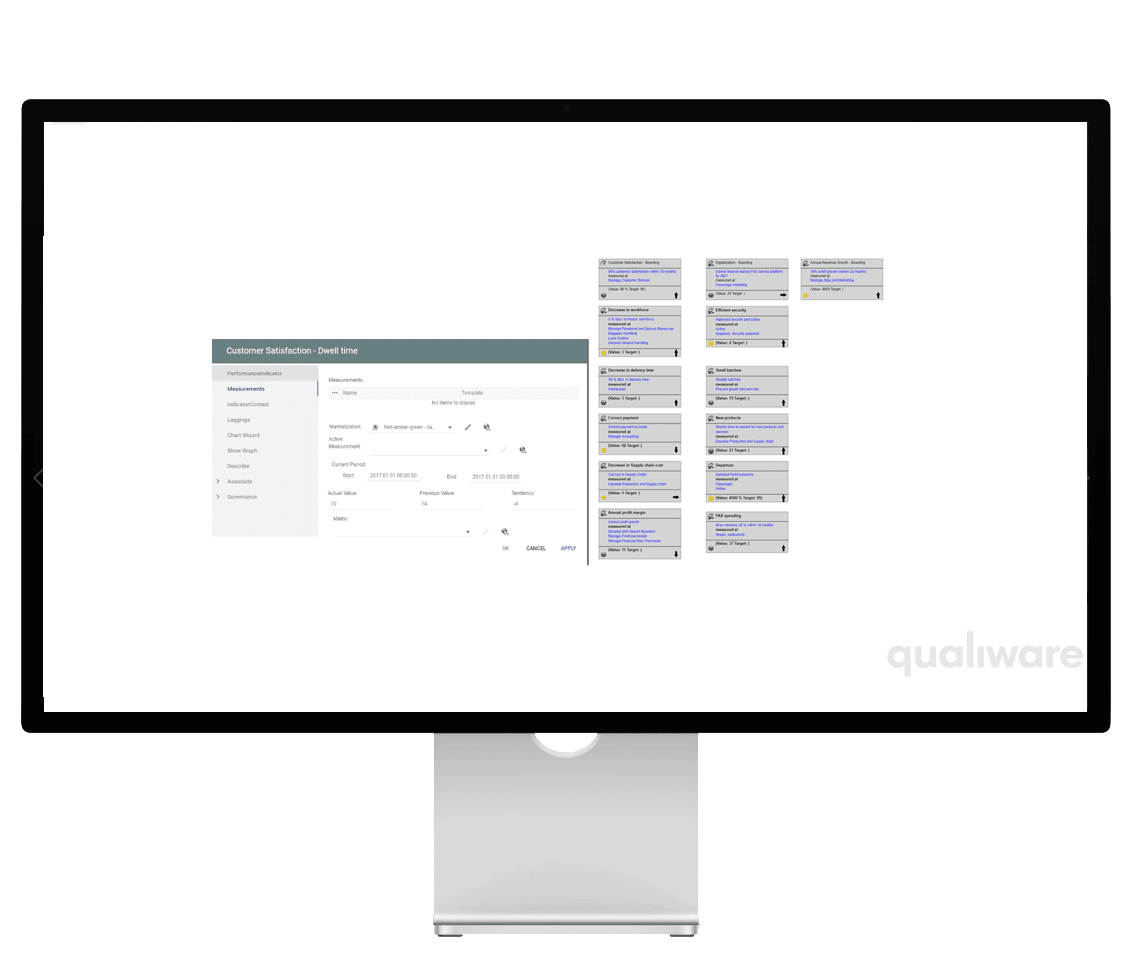 Now, we have built our first digital twin as part of our digital twin of the organization (DTO).
The outcomes of our experimentation will be logged in QualiWare to enable the evolution & transformation of Passenger Security.
In "Guide: How to select the perfect candidate for your Digital Twin", Kevin Bowles shows how to decide on the right focus for our Digital Twin.
QualiWare named as Technology Leader

Quadrant Knowledge Solutions has published its "SPARK Matrix™: Digital Twin of an Organization, 2022", naming QualiWare as Technology Leader.
See how Digital Twin works
We always tailor a demo to your organization's needs and wishes

5 minutes and you're updated
Get new ma

r

ket insights and useful tips every month.