Exploring the parallels between architecting our lives and architecting our businesses
At QualiWare, we have a deep passion for Enterprise Architecture. For us, the meticulous and thoughtful work involved in

Enterprise Architecture is a key factor in creating flourishing, resilient companies

that thrive, drive successful transformations, and navigate challenges.
We believe that Enterprise Architecture is not only crucial but also an incredibly fascinating subject that should be accessible to everyone. That's why we have developed this mini-series, serving as an

introduction to Enterprise Architecture for beginners.

We understand that delving into this topic can be complex, but fear not:
You already possess a wealth of knowledge from your own daily experiences, where you continuously shape and interact with the principles of Enterprise Architecture.

Therefore, we draw clear parallels between these concepts and your everyday life throughout our introduction. After all, we are all architects in our own way, even if we haven't realized it.
Throughout the series, we will

focus on eight fundamental elements, which are the "building blocks"

that an enterprise architect employs in their work.

These eight building blocks are interconnected and intertwined, influencing one another in multifaceted ways and can be harnessed to create the desired changes and transformations we seek: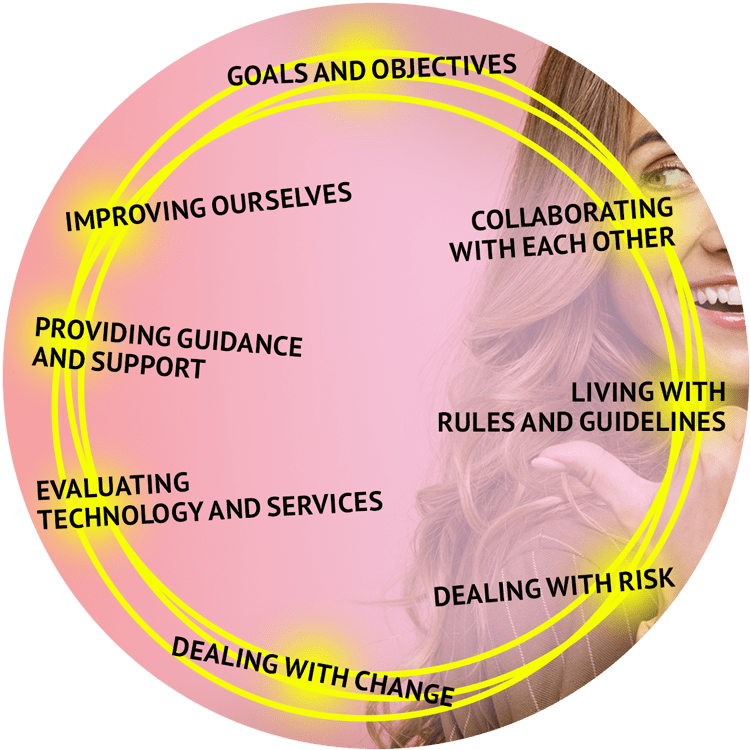 Our hope is that this series will

ignite your curiosity and inspire you

to delve deeper into the world of Enterprise Architecture. Dont' hesitate to reach out to us, if you would like to know more!
​​1# GOALS AND OBJECTIVES
In the first chapter of our miniseries on Enterprise Architecture, we will focus on goals and purposes and their crucial role in both our personal life and business development.
The Significance of Goals and Objectives
Goals and objectives serve as guiding principles, providing direction to our actions and a sense of achievement when we reach them. In our personal lives, we often prioritize setting goals during transitional periods such as starting a career or building a family.
However, continuous reflection on what we want and why, as well as fine-tuning our goals and purposes based on our current circumstances, is essential for ongoing growth and development. Fortunately, life is rarely predictable.
The same applies to businesses. It is vital to have a clear purpose and strategy that are well-known to everyone in the company.
This ensures that all employees understand how to carry out their tasks in a manner that contributes to achieving the company's goals.
Regular evaluation is also crucial, assessing progress towards the goals and identifying areas for improvement or adjustment internally, as well as considering external factors that may require attention.
The world is in a constant state of change, and businesses must adapt, just as we do in our personal lives. There may be significant global events like epidemics, conflicts, or financial crises that necessitate responses to ensure the survival of a company.
Likewise, unexpected new markets and opportunities may arise that should be capitalized on before others do.
By adhering to our vision and continuously adapting to the world in which we live and operate, we increase our chances of growth, success, and fulfillment.
Goals and purposes are among the crucial elements to consider when working with Enterprise Architecture. Focusing on the company's capabilities is therefore a good place to start.
Many individuals are continuously seeking new ways and recipes to enhance themselves and their performance. Whether it's adopting healthier eating habits, engaging in regular exercise, or investing time in learning a new language or skill, the pursuit of self-improvement remains constant.
With each improvement in a particular area, we unlock our potential further, creating even greater opportunities for success and, ultimately, an improved quality of life.
The importance of self-improvement extends beyond individuals; it is equally crucial for businesses to explore potential areas for growth within their operations. This can take the form of training and development programs aimed at enhancing employee performance.

By fostering an environment that prioritizes innovation and transformation, companies maximize their chances of achieving success.
There is never a point at which it no longer makes sense to improve our competencies or abilities. Continuous improvement consistently opens up new possibilities, perspectives, and potential for even greater success. In a world that is constantly changing, failing to keep up to some extent puts us at a disadvantage in the long run.
Embarking on this journey begins with a conscious choice.
The same principle applies to businesses. In order to accomplish their goals, companies must constantly strive to progress, improve, and develop their potential.
When dealing with Enterprise Architecture, it becomes clear that a company's architecture cannot be set in stone or encapsulated in a mere Excel spreadsheet. Instead, it should be viewed as a dynamic entity that adapts to opportunities and challenges,

consistently evolving and growing

.
​​3# Collaborating with each other
Collaboration is absolutely essential for achieving success. This holds true in both our personal lives and in business.
Whether it's as simple as asking a neighbor for help in putting out the trash while we're on vacation or working together with colleagues from different fields to create even better projects, collaboration plays a vital role.
It fosters a sense of community, shared responsibility, and ultimately drives growth.
Collaboration in personal and professional contexts
In our personal lives, collaboration comes naturally. We collaborate with family, friends, and partners to solve practical tasks, plan vacations, and manage financial obligations.
The benefits of having multiple people working together to keep daily life running smoothly are immense. It allows us to make each day good - and perhaps even a little better than the last.
Likewise, it's crucial for businesses to create an environment that encourages and facilitates collaboration. Smooth and effective collaboration processes are essential.
The value of collaboration
Collaboration in the workplace brings together diverse perspectives and experiences. When we harness the collective knowledge of a group, we increase our ability to make informed decisions and find creative solutions to complex problems. Additionally, collaboration strengthens the sense of belonging, fosters open dialogue, and builds trust and respect among team members.
The importance of shared understanding
Collaboration in the workplace becomes even more impactful when there is a shared understanding and a common language, minimizing misunderstandings. This is particularly important in large organizations and complex projects.
Developing a shared language, frameworks, and best practices requires an investment of time and effort. It can be achieved through the use of ontologies, standards, or change management strategies.
Challenges in collaboration
Collaborating with others can present various challenges. These challenges may arise from differences in culture, language, or professional expertise.
Within a company, addressing these challenges involves adapting the approach to collaboration based on the composition and needs of the team, investing in change management practices, and promoting awareness of effective collaboration initiatives.
In a business setting, collaboration acts as a catalyst for innovation, growth, and operational excellence. By fostering a culture of collaboration, a company can fully leverage the collective potential of its employees and break down silos.
Enterprise Architecture and collaboration
Building and maintaining the enterprise's architecture is a collective process, and documenting the architecture becomes a valuable asset for fostering collaboration. It requires agreement on a common language and a clear understanding of who is responsible for what, along with how and why it is done.
​​4# Providing guidance and support
Giving and receiving guidance and support is essential for both personal and professional development.
Although we may not always be conscious of it, most of us naturally offer guidance and support to others based on our knowledge and experiences, both positive and negative. This assistance can help them navigate unfamiliar situations and further unlock their potential.
In our personal lives, we often provide guidance and support to our children, enabling them to make better decisions and overcome challenges, which fosters their personal growth.
In a professional context, guidance and support are equally crucial. Programs for graduates and mentorship initiatives exemplify how organizations recognize the importance of offering guidance and support to their employees.
Because, while theory can only teach us so much, real-world experience and practical guidance truly shape individuals into competent professionals.
Managing Unexpected Challenges
Through guidance, we can collaboratively explore various scenarios, exercises, and simulations, equipping employees to handle unexpected challenges. This not only helps reduce panic but also empowers them to make sound decisions under pressure.
Coaching is an effective method for providing guidance and support because it means we are not simply making decisions for others. Instead, we provide them with the tools to tackle their own challenges and make wiser decisions.
The effects of coaching extend far beyond immediate problem-solving. It promotes personal growth, builds confidence, and strengthens relationships.
Within a company, it is vital to create an environment where employees can guide and support one another, thereby collectively contributing to success. Rather than assembling teams of individuals who are similar to one another, it is more beneficial to bring together employees with diverse personalities and skills, encouraging collaboration. This enables them to share new perspectives and experiences more effectively.
When employees share their experiences and knowledge, it also increases the potential for covering each other's responsibilities during vacations, illnesses, and other unforeseen circumstances.
When Knowledge is Not Shared
Conversely, if employees insist on hoarding knowledge, its full potential remains untapped, creating a vulnerability within the company when only one person possesses it.
While companies and employees generally have intentions to share knowledge and provide coaching and support, the demands of a busy workday may lead to a preference for handling tasks individually rather than coaching a colleague to learn them.
Enterprise Architecture work can alleviate this challenge by documenting as much knowledge as possible in a system accessible to all those for whom it is relevant.
​​#5 Living with Rules and Guidelines
In both the business world and our personal lives, our behavior is influenced by rules and guidelines. Whether it's laws and regulations or social norms and compliance standards, these guiding principles shape our conduct. They establish order, fairness, and accountability in society.
Quality, safety and security


In our personal lives, we are familiar with how social norms dictate acceptable behavior, while laws ensure our safety and security in public spaces.
In essence, the adherence to both implicit and codified rules and guidelines strengthens communities and relationships.
For businesses, it is crucial to comply with laws, regulations, and specific standards. The introduction of the General Data Protection Regulation (GDPR) as a legal requirement, for example, necessitated significant investments from companies to ensure compliance.
While some guidelines are mandatory without immediate tangible benefits, adhering to industry standards such as ISO certifications can yield numerous advantages. It signals that a company voluntarily prioritizes quality, efficiency, and customer trust.
Assessing Risk and Flexibility
When it comes to personal compliance with rules and guidelines, our risk appetite plays a significant role—our inclination and willingness to act flexibly and without unnecessary restrictions.
Each of us possesses a social and cultural background that influences our level of risk tolerance and propensity to either break rules or push their boundaries.
The same holds true for businesses. The greater the number of rules, laws, and regulations they must comply with, the less flexible they become.
The extent of regulation imposed on businesses can vary depending on their geographic location. Consequently, adherence to rules and regulations can significantly impact the markets in which a company can operate.
Upholding Integrity and Balance
Both in the realm of business and personal interactions, maintaining integrity is paramount. Although flexibility can foster innovation and agility in certain cases, compromising integrity or ethical standards will inevitably lead to negative consequences.
Building a Solid Foundation
Rules and guidelines serve as fundamental building blocks for personal and business growth. They provide structure, define boundaries, and foster accountability.
In Enterprise Architecture, we employ frameworks that establish the structure of architecture. These frameworks ensure that we work together in the same direction, enabling us to create something remarkable and purposeful together.
​​#6 Evaluating Technology and Services
We constantly engage with the technology and services we use, and this engagement has become even more prevalent than ever before due to the rapid pace of development.
Whether it's selecting one or multiple streaming platforms, a mobile phone provider, or a PC or Mac, our choices are influenced by various factors such as performance, costs, and availability. Additionally, more intangible aspects like emotions and personal preferences also play a significant role in our decision-making process.
Similarly, in a business context, we continuously evaluate technology and services based on similar criteria, including efficiency, compatibility, scalability, security, and alignment with the organization's goals and strategies. Emotions also come into play because, at the core, businesses are driven by people.
Is this necessary for achieving our goals?
Within a company, the role of an enterprise architect is particularly crucial when it comes to selecting and implementing new technologies. An enterprise architect possesses a solid understanding of the company's business and strategy while also maintaining a strong technical acumen. Consequently, they can address two critical aspects: Can the chosen technology contribute to realizing the company's objectives, and does it align with the overall strategy and values?

These two levels of consideration mirror the ones we employ when choosing new technology on a personal level. We ask ourselves if a new mobile phone is necessary for achieving our goals and desires and if it has been thoughtfully designed. Moreover, we may even question whether it has been produced in an environmentally and ethically responsible manner.
Recognizing the role of emotions is vital when evaluating technology and services, not only in personal settings but also in the business environment.
Emotions inevitably influence our decision-making process

because we are inherently human. However, it is crucial that we are aware of these emotions and strive to understand their impact.
For instance, a CEO may decide to introduce a particular technology in a company because of her familiarity with it from a previous workplace. However,

this decision may be rooted more in nostalgia than in an objective assessment

of whether the technology is the most suitable for the current workplace. In such cases, it is essential for an enterprise architect or a CIO to provide an impartial evaluation.
Another scenario where emotions and technology can collide is during the implementation of new systems in the workplace. This can

trigger irritation, resistance, and even fear

among employees, as adapting to the new systems requires effort and time. Employees may feel that it impedes their ability to perform their work effectively.
In such situations, change management specialists can assist the organization in addressing these emotions and ensuring that the benefits and positive aspects of the change are effectively communicated.
By

acknowledging the emotions that may arise when selecting and implementing new technology

, companies can navigate through transformative processes with greater ease.
Every single day, we make a multitude of decisions that are based on risk assessment:
Will we be able to make it to work if we hit the snooze button on our alarm clock for the third time? Can we catch our flight by opting for the train instead of driving to the airport? How long can we continue indulging in unhealthy eating habits without facing any health consequences? These considerations all revolve around our safety and overall quality of life.
When it comes to risk assessment, our personal evaluations are often instinctive and informal.
However, the situation differs for businesses.
They must approach a wide array of scenarios and risks in a structured and formal manner. They need to make informed decisions regarding how to prevent and mitigate these risks, as well as develop contingency plans in case things go awry.
Protecting their operations and activities becomes crucial for businesses. A failed risk assessment can have equally devastating consequences for a company as it can for us as individuals.
Companies require a more structured approach due to their complex nature and the need to comply with various rules and regulations. Additionally, having a strong grip on risk assessment can contribute to a company's reputation, such as obtaining ISO certifications or other relevant certifications.
Every choice involves risk
Therefore, it can be said that every choice we make carries a certain degree of risk. It becomes essential to comprehend and effectively manage risks in both our personal lives and complex business strategies.
However, it is important to recognize that risk is not solely negative. It often holds the potential for growth, success, innovation, improvement, and transformative change.
By embracing all these aspects, both on a personal level and within a business context, we unlock opportunities to achieve exceptional results and navigate important and positive transformations successfully.
The Role of the Enterprise Architect
Enterprise Architects play a vital role in helping companies assess and manage risks. They possess the necessary overview to identify vulnerabilities, devise strategies to address them, and implement measures that minimize potential negative impacts.
In essence, Enterprise Architects enable companies to proactively handle risks, safeguarding their operations and promoting resilience.
Change occurs whether we desire it or not. In our personal lives, we endeavor to shape our lives in a way that brings about positive change—success, happiness, and an improved quality of life, depending on our goals.
Similarly, an Enterprise Architect deals with various factors (as discussed in previous chapters: goals, risks, etc.) to facilitate positive change within a company, leading to growth and success.
Some changes are initiated by us, while others happen to us, and we must embrace, adapt to, prevent, or respond to them, seizing the new opportunities that arise.
Change often accompanies a set of challenges that necessitate education, skill expansion, broadened perspectives, and increased flexibility, innovation, and resilience.
This applies both personally and professionally, as change ultimately drives growth and success.
For instance, a company might reconfigure its production to meet new market requirements or expand into different regions of the world, necessitating adjustments to cultural differences.
Change also involves navigating cultural diversity and embracing novel work methodologies.
Understanding and openness toward cultural disparities are crucial for effective collaboration and fostering an inclusive environment.
Even small changes require resilience, willingness, discipline, and energy. This rings true in our everyday lives when we aim to overcome a bad habit.
In a corporate setting, where multiple individuals are involved, implementing change becomes an even more intricate endeavor that inevitably impacts the entire organization.
It requires a deep understanding of the company's maturity and risk appetite to determine whether the company's need for progress aligns with its preparedness.
Stepping Beyond th

e Comfort Zone
All change necessitates stepping outside of our comfort zones, making us naturally hesitant as human beings.
We typically require substantial reasons to instigate personal or professional transformations.
However, as previously mentioned, it is through change that growth and success manifest in both our professional and personal lives. It may involve pursuing a new career path or relocating to a different city.
Embracing change empowers us to unlock our potential, overcome challenges, and create a purposeful life.
​​#9 Architecting Your Life and Business
In the last 8 chapters of "We are all Architects", we have explored various elements that we, as human beings, navigate and consciously or unconsciously engage with while living our lives and striving for personal fulfillment.

These elements are fundamentally similar to those that businesses consider in order to establish resilience, growth, and success.



The elements we have examined in this series are not isolated concepts; instead, they are interconnected and interwoven, influencing one another in multifaceted ways

and can be harnessed to create the desired changes and transformations we seek.

However, there is a distinction in complexity when comparing our individual lives to a company operated by 1,000 individuals.




Within Enterprise Architecture, a company's goals and objectives serve as guiding principles that drive strategic decisions and actions.
Similarly, in our own lives, we develop a personal architecture, setting and pursuing meaningful goals.
We all function as architects—enterprise architects, in a broader sense. We work towards a strategy, foster innovation, collaborate, mentor and train others in our field, and consider procedures, and regulations. We address risks, and manage change and continuity etc..
These are all parallel aspects that we encounter daily in our personal lives. Therefore, when you encounter similar concepts in your business, such as risk management, policies and procedures, or the need for innovation, I hope that you can revisit this blog series and reflect on how you have applied these principles in your own life to improve yourself and consider their potential impact on the business and your personal risk management.
As individuals, we can draw valuable inspiration from the practice of Enterprise Architecture in shaping a flourishing and purposeful life. Both endeavors require the skill of establishing meaningful goals, strategic planning, adapting to change, nurturing relationships, and embracing complexity.
Ultimately, it is crucial to be aware of our actions, understand our motivations, and have a clear vision of our desired destination.
This series draws inspiration from the workshop and webinar titled "You're an Architect Harry" by Kevin Bowles, Product Owner: Enterprise Architecture at QualiWare.